D-Litter nineth week
From the ninth week it's slowly time to say goodbye
We will now report more briefly here,
until every pup is in its family.
Most of our puppies have already found their families.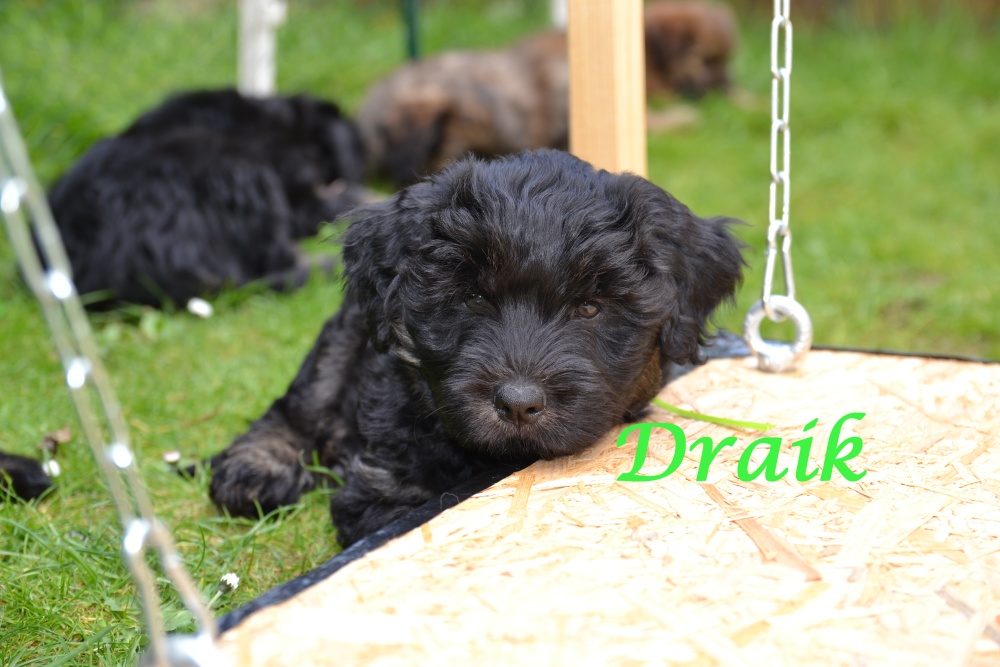 Draik is still looking for his family
Draik is an active agile guy, very curious and open to others,
because of its great power we can imagine
that he could also be used for sport.
He is always ready when it comes to cuddles.
This week is vaccination and breeding admission
and surely the first will leave us.
But I only give away one puppy a day,
after 2 days a break and after that all the puppies will go to their families one by one.
So it's not that difficult for Jade either and she doesn't really notice if one is missing.
Saturday / Sunday Day 72/73 21th/22th May
This weekend will be the last,
where we will report on a weekly basis.
Birgit and Mikael are coming today and tomorrow to pick up their puppy.
After that we will be able to read anecdotes or events on the dogs' own pages.
Freitag Tag 71 20. May
Liesbeth and Robbert were visiting today,
they are enthusiastic about Dali and it won't be long then he ensures an exciting time.
Dali will go to Holland.
His website is already online and will be continued there.
Thursday Day 70 21. May
Now it's time to say goodbye.
Denver joined his new family today,
he arrived safely and made friends very quickly with his new comrade Easy.
Additional photos and events will now be posted on Denver's site.
Sunday Day 66 15th May
three of our little ones had their first puppy lesson today.
New and unknown character traits came to light,
which they hadn't shown before.
Draik, our little cuddler and never the initiator of quarrels,
said clearly at the sight of Loui, who had undressed for 6 days,
you no longer listen to the pack and have literally defended Irish and mistresses against Loui.
Danuta, otherwise a daredevil in everything,
the sight of a 10-week-old labrador was not at all comfortable
and she said to squeak in advance, help, help
Seeking protection with us or the trainer.
Draik was first given a rest period by us and then it got a little better.
Danuta got her security with us and then she got a little braver.
At first Loui felt comfortable with his master and mistress,
then bonded briefly with an Aussie puppy.
For him everything unknown was more interesting.
Training course, such as new ground, unfamiliar safety belts, tunnels and the like
but were absolutely no problem for all 3.
they mastered this fabulously – the adventure playground was certainly a good experience.
Friday / Saturday Dag 64/65 13th/14th May
The last two days two puppies left us again.
our little chaos mouse Dirka was picked up by Verena and
Heike and Andy picked up Daja on Saturday.
It's slowly getting quieter. Both the puppies and Jade notice that.
Jade is now much more common in the dining room and also in the garden.
On Friday, however, she really pissed off her children.
She walked outside the puppy pen to the back of the garden and lay down in the shade – hidden by flowers.
Her head stuck out and of course the puppies smelled it.
and quite a clamor got up, smelled, but didn't see her mum. I thought that was a bit mean of Jade.
She had been playing with them in the garden for almost 1/2 hour beforehand though.
So be forgiven. I would have loved to show you this picture;
Unfortunately, I didn't have a cell phone or camera with me.
Monday / Tuesday Day 60/61 9th/10th May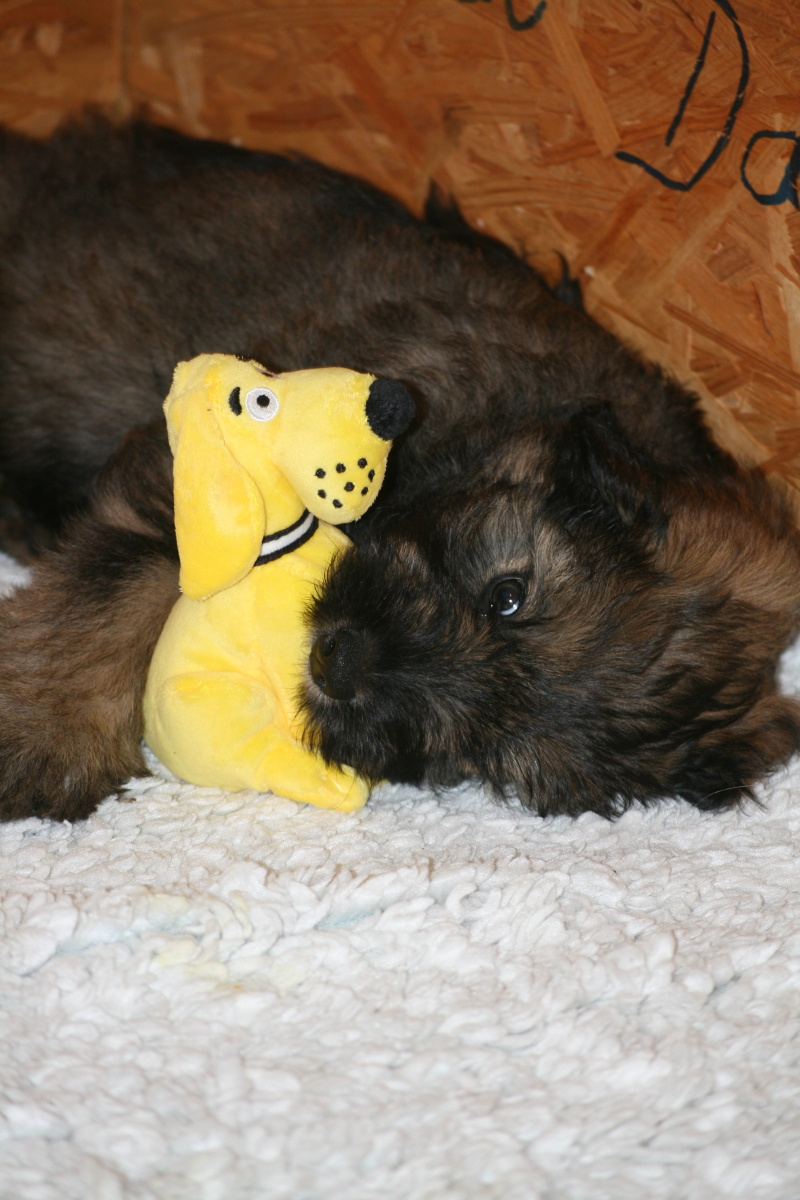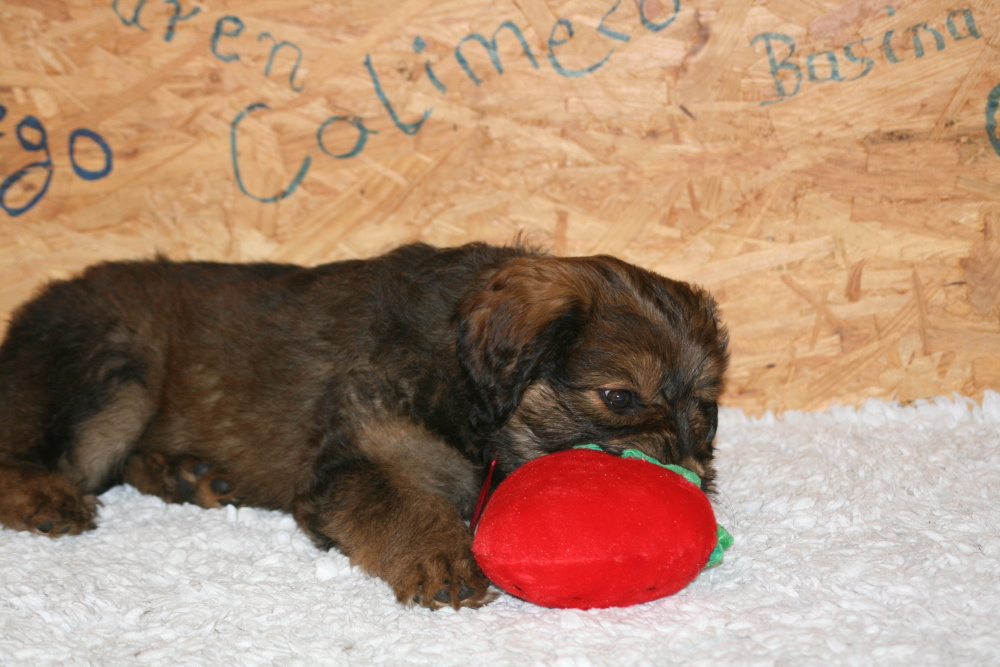 A few more snapshots were taken of our puppies.
One puppy will leave us Monday / Tuesday.
Jade still got the opportunity to
to spend two hours completely undisturbed with the puppy that is moving away.
Both puppy and mother enjoyed it again.
Tuesday Diego starts his journey to Chemnitz.
The journey went smoothly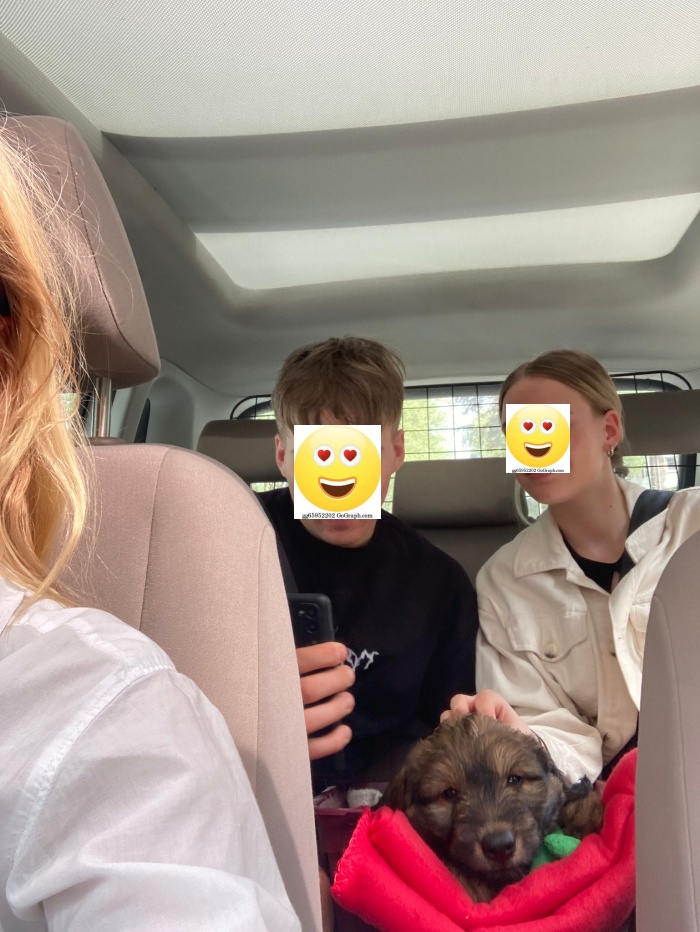 Diego could snuggle up in his blanket.
The drive for Loui was very short,
he lives in a part of town very close to us.
the garden was inspected and his new equipment was admired in the house.
In the evening he was tired, so he only whimpered for his siblings and mum for a very short time.
Saturday / Sunday Day 58/59 7th/8th May
The weekend was a mix of rest and inspection of puppies.
Denver was visited Sunday, he is coming to a family,
who already has a Gos bitch,
and we wanted to give him a first contact with his future buddy.
Before that, Jade and Easy had arranged to go for a walk in the field and
both dogs had a lot of fun on the round together with another companion dog.
The encounter with Denver and Easy was neutral,
Easy didn't seem interested,
Denver mucked up for a moment,
because apart from Jade he hasn't met a big dog yet.
We were happy with the result and hope so
that Easy and Denver will soon feel comfortable in their new home.
We relaxed on Saturday and Franziska and Thilo only visited in the late afternoon,
to sit puppies,
because Jade could also enjoy a long walk and the sole attention of mistresses.
Everything worked out great and the Saturday could end in peace.

The puppies now know how to remove the puppy collars;
they run away with their trophy, followed by the pack,
who also want to claim for themselves.

Dino is playing with Denver. It's nice to be able to watch this game.
It's wonderful how two brothers get along.
Friday Day 57 6th May
Today there were more puppy prospects,
because a few males are still looking for their families.
Dali immediately took a liking to them.
The family also thought our gang was nice,
so we had a nice morning with nice conversations and lots of cuddles.
In the late afternoon there are still friends of ours,
our Bomo from the B-litter came and
really wanted to see puppies with the kids.
Our granddaughters also came
so that it was a colorful afternoon,
which the children didn't want to end.
After two hours everyone was satisfied,
the puppies are getting tired and so we went back home.
Tuesday Day56 5th May
We tried to get all 6 guys onto the jetty with a photo montage.
The attempt failed
here at least and not in good quality
three males each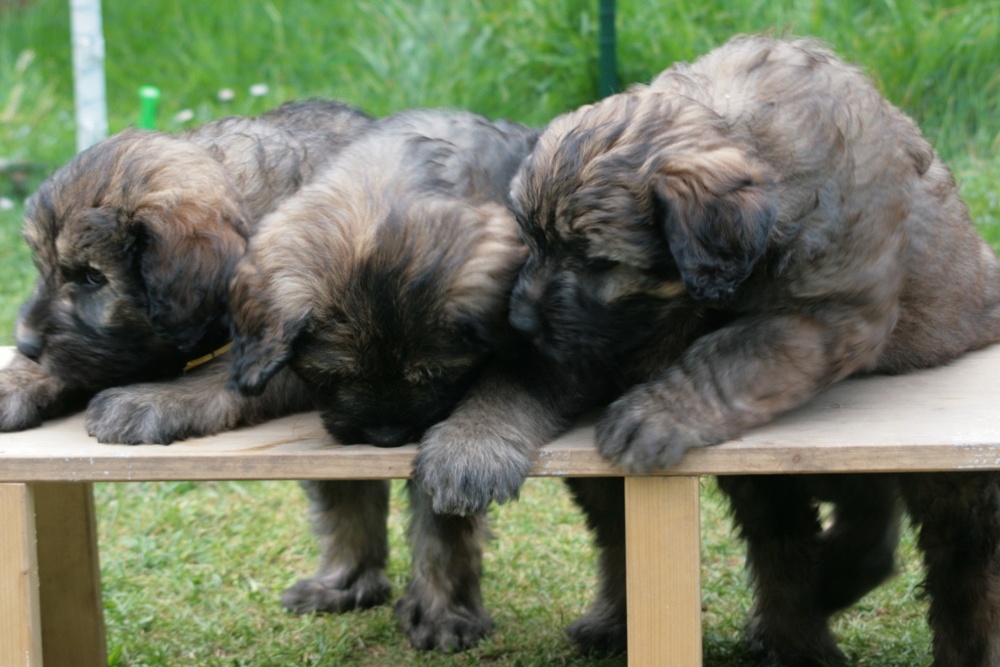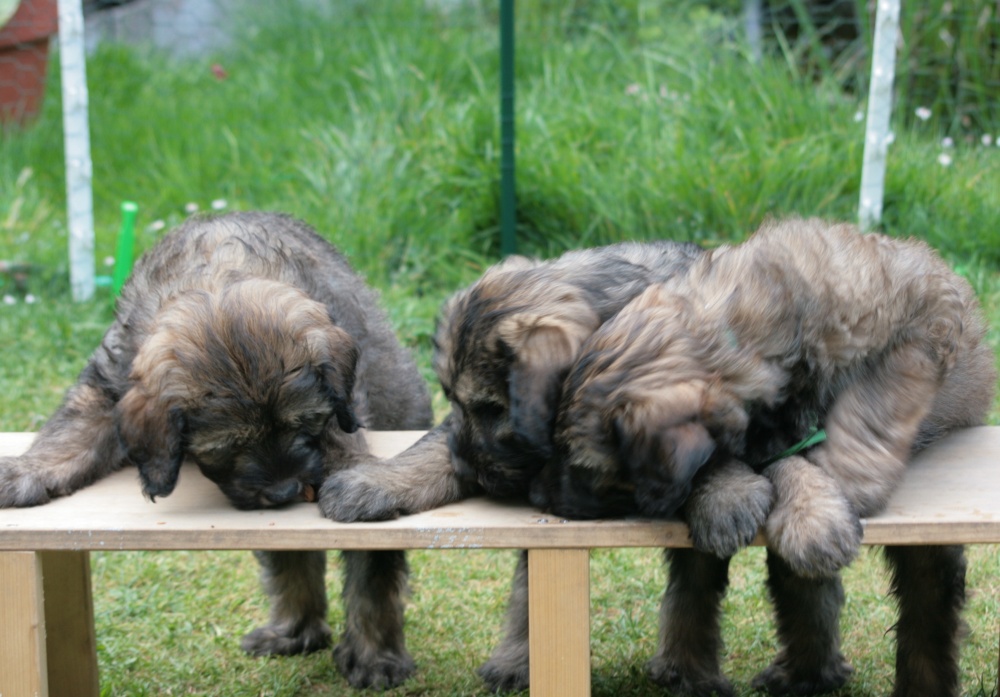 Vaccination and chipping is the order of the day today.
The vet examines all the puppies,
is very satisfied, no error is found,
all testicles are present in males,
no umbilical hernia and no tooth defect.
Of course there is a squeak when chipping, as the needle is also relatively thick.
We are happy about the good news and hope
that the breed warden will be of the same opinion.
Since we want to give the puppies rest after the vaccination,
nothing is on the agenda for the day.