Home Page
Last Update 16th March 2023
16th March 2023
The owners of our D's congratulated each other.
I would like to capture this in a collage
and thank you for the nice cooperation.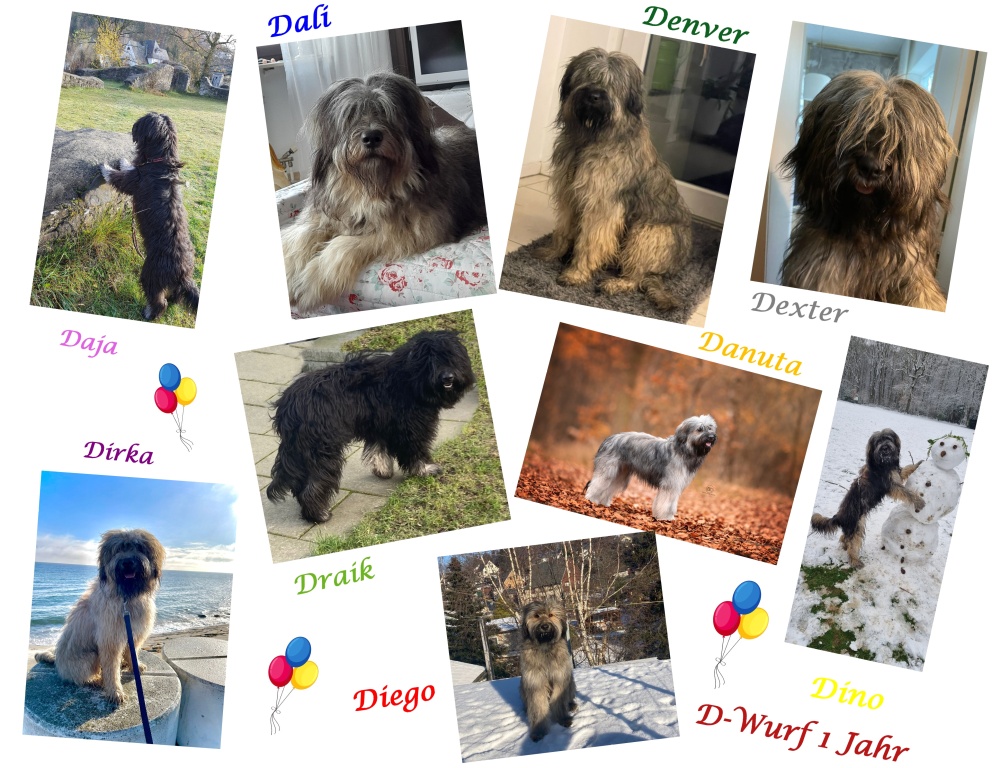 Please look at the D-litter,
many winter pictures and videos are now published.
a few are still missing, but they will come in the course of the week.
D Litter
sad news reached us.
Bomo-Tiesto died on January 31st
followed his brothers Biego and Baleno over the rainbow bridge.

But we are happy that he was able to go in the arms of his family
was able to start his last journey so stress-free and unconcerned.
Our sympathy and thoughts are with Patricia and Daniel with their family.
New Pictures from Draik, Daja and Dino D-litter .
I hope everyone had a good start into the New Year and didn't suffer any "firecracker damage".
There were still a few exciting days in December,
we too had a nice Christmas and a smooth transition into the New Year.
There is news from the D-litter D-litter . Pictures and videos of Dali and Dirka have been entered, more will follow in the next few days.
The young dog school will be continued
and some will consider whether and which dog sport is most suitable for the youngsters.
A busy exchange takes place here.
Links of D-Litter, C-Litter, B-Litter: D-Litter and C-Litter and B-Litter
Also some pictures of our dogs – this time at Jade to see.
Forest walks with questions
Some of the links at the English pages are going to German pages.This will be changed as soon as possible
we are changing to a new homepage. It will take a while for her to finish.
So long you can look at the old HP:enghp.gos-datura-dortmund.de
Welcome
to FCI / VDH breeder "El Fuego del Viento"
and Family Schüssler with Jade, Baika and Ringo
We want to tell you something about us. Look at the next pages and have fun while reading it.
Contact about our mistress and every visitor is welcomed
Angela and Iren Schüssler
Veteranenstr. 23 44225 Dortmund
Tel: 0231 / 773113
Mail: angelaschuessler[a]gmx.de