Male
| | | | | | |
| --- | --- | --- | --- | --- | --- |
| | Ringos Exhibitions ( in German only) | | Ringos Pedigree | | Ringos Mating |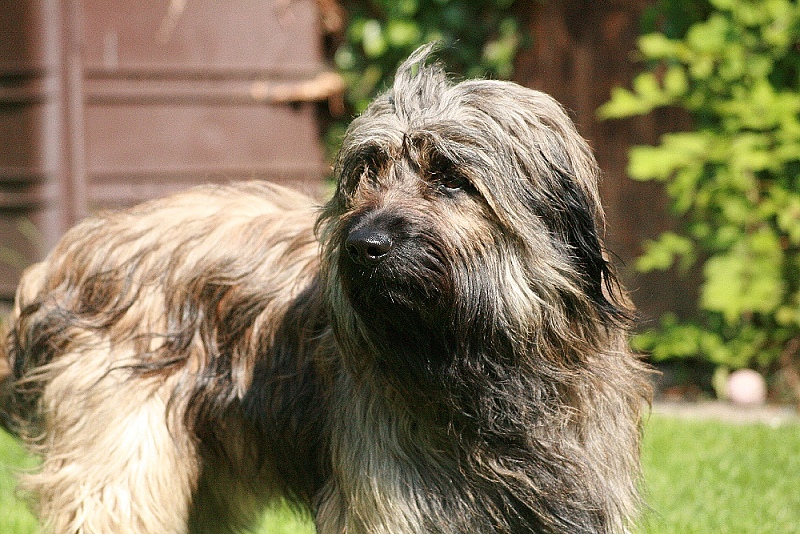 M.Ch.Ares el Fuego del Viento "Ringo"
FCI Weltsieger 2012, FCI Europasieger 2011,
Internationaler Ch, VDH Jahressieger 2013,
DE CH(VDH), BE Ch, NL Ch, DK Ch, LU Ch, AU Ch, HU Ch, BG Ch,
DE Jugendchampion (VDH), FCI Century Show Champion,
Amsterdamer Winner 2010, Brüssel Winner 2010
LU Winner 2010, VDH-Europasieger 2010,
VDH-Bundesjugendsieger 2009, VDH-Bundessieger 2010/2011,
AU Clubsieger 2012, VDH Frühjahrsieger 2013, Hungarian Derby Winner 2009
born : 27.06.2008
dead : 23.06.2021
Pedigreenumber : VDH 08/0770640
Father : Truc Sisdits
Mother : Bea de las Landas del Sur
Breeder : Angela Schüssler
Owner : Angela Schüssler, Heike Potter
HD : B1
23.06.2021
Ringo hit us suddenly and unexpectedly
left a few days before his 13th birthday.
We mourn the loss of our dear pack member,
think of the many great experiences we had together in the garden,
at exhibitions, in breeding events.
Look down on us with Benga.
Our condolences to Heike and Andy who gave Ringo a beautiful home.
Farewell Foto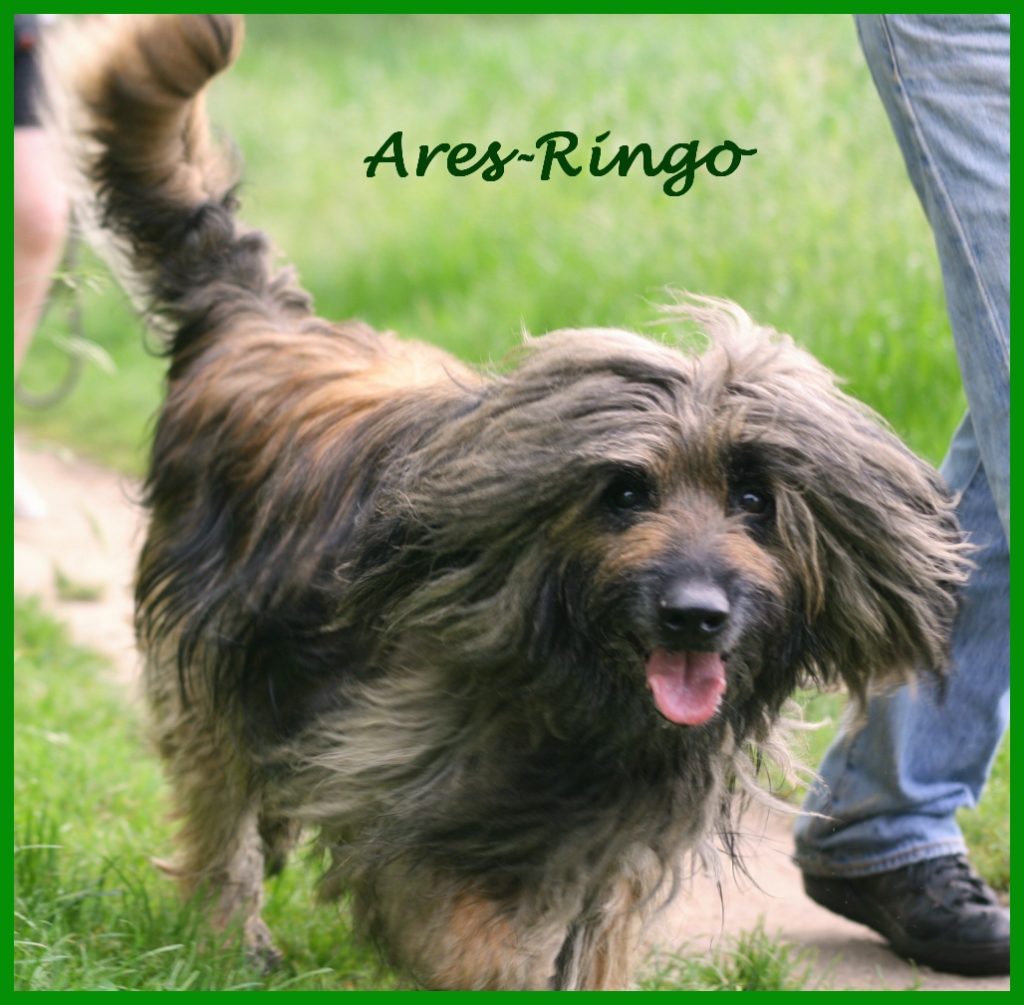 Review to Ringo's Life
Ringo is now back home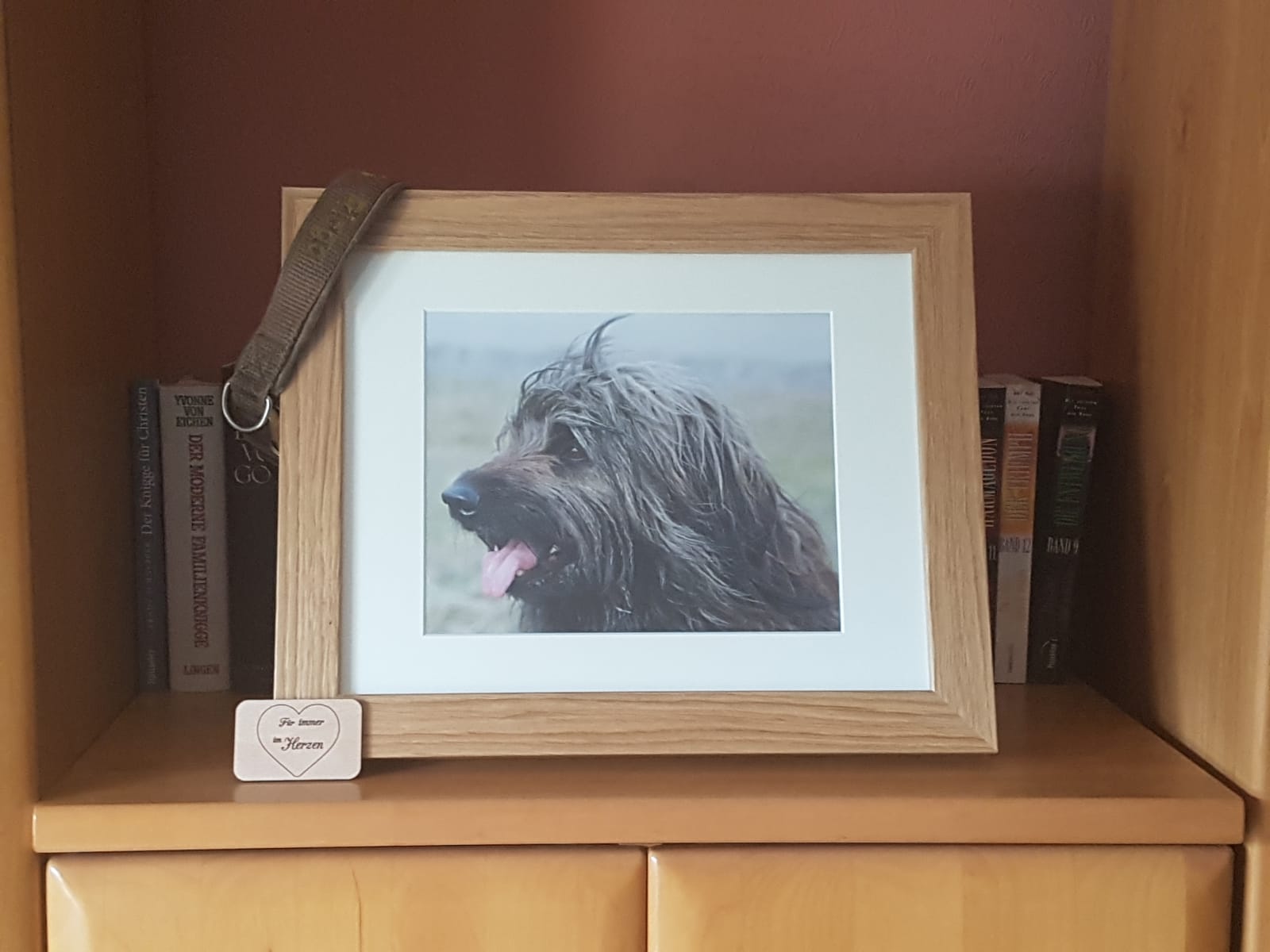 Winter 2021
Our Senior Ringo with 12 1/2 years
Summer 2020
Ringo with 12 years
El Fuego del Viento Kennel at summer 2020
Spring 2018
Ringo loves sand and sea.
He spent a week with us in Holland.
February 2016
Ringo Hair color is constantly changing.
At the moment he is rather dark again..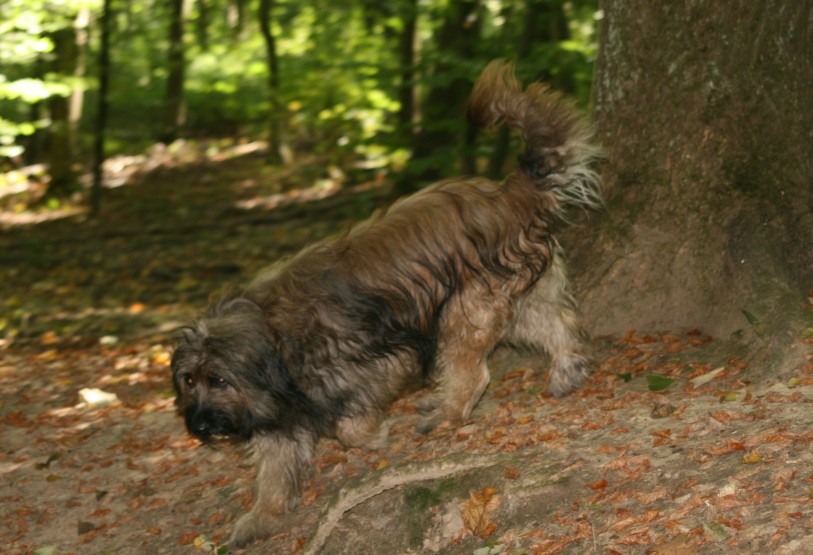 Ringo had three matings:
Februar 2013 Feli-Gina aus dem Dolberger Holz 5 males / 2 females
Juli 2011 Etoille a Dream of Bear'd 4 males / 3 females
November 2010 Quilate de Valdegoscan 5 males / 2 females
Please contact us if your interested in covering services
18.02.2013
Two multi champion meet each other
Feli-Gina From Dolberger Holz and Ares El Fuego del Viento
The two families have been waiting feverishly.
Now it's finally time, Gina and Ringo were able to romp extensively
they liked each other, but Gina wanted to be properly courted;
a pretty Catalan manages to do that, of course
even if he had to "work properly" temporarily.
The afternoon ended with success.
In the evening Ringo was so "exhausted" that only sleeping was announced.
We thank you for the nice afternoon and the helpers who helped
that hopefully in eight weeks healthy and lively puppies will move into the Zonser Märchenwald.
We keep our fingers crossed and wait tensely.
A picture story will be submitted in the next few days.
Puppy interested parties can be here as well as at
www.vomzonsermaerchenwald.de
melden.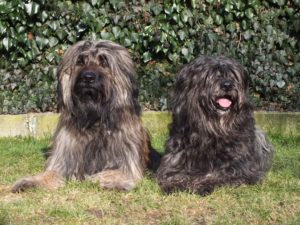 A small addendum to the 2012 World Dog Show
Two who get along great and harmonize well with each other
Andra and Ringo
Ringo is FCI Worldwinner 2012
We are especially happy about this success
& thank you and Viktoria for the great show
Ringo had his second Tete a Tete with a Belgian beauty on July 14th
In the middle of September there are 7 healthy "Fire Wind" offspring
arrived in the nursery from "El Pastor del Sierra".
The wedding can be viewed in the gallery.
Interested parties can contact us.
Ringos children are fledglings, all puppies have found families
On October 30, 2010 Ringo passed his companion dog test according to DVG guidelines.
A great success.
Ringo has since November 2009 received his full breeding permission.
For cover interest, please contact us.

We also have a clear idea for our male dog Ringo about mating
and his prospective partners who would continue our pedigree.
We desire a breeding partner who is not only physically
able but one who is "grown up" in character as well.
She should be at least two years old
and not have had a litter in the last fifteen months.
Our female dog will be covered three times at most.
We prefer this also to be the case with Ringo's "Bride."
We are a simple family
and feel the dog (female) should live with her family in the house
(no kennel or pen).
If these conditions are agreeable to you
and you are looking for a stud dog,
you are more than welcome to contact us.
Ringo loves to try intelligence games for dogs
After some practice you are amazed at what routine
and overview he goes to the task.
look the Video Futtersuche
Ringo and the Northsea
Ringo and snow
Ringo is a lively and even-tempered young dog.
who had two "Marriages"
At home he spends a lot of time laying in the office of his mistress
waiting until his mother wants to play.
One of his current favorite pastimes is to "steal"
a toy that Benga is playing with.
Ringo went through puppy-school with flying colors.
He is a dog who demonstrates that he has a good relationship with his authority figures and respects their commands.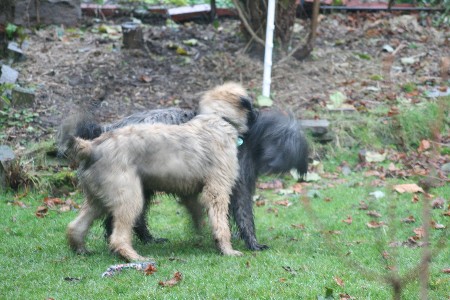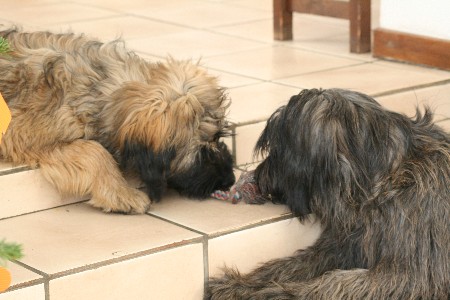 The puppy school has mastered Ringo with flying colors.
He is a dog who shows that he has attachment to his caregiver
and listen to their commands.
Ringo is still becoming socialized in his interaction with other dogs
and therefore displays varying behaviors.
Sometimes he acts like the big boss;
another time he simply wants to play;
still other times he is very careful and cautious.
We are learning a lot from obedience school
and Ringo is continuously improving.
He is reserved toward strangers, this is typical of his breed,
yet friends and acquaintances are greeted with joy.
He is curious about anything new.
Ringo became acquainted with clicker-training early on.
This is how he learned to stand still on command.
Still, retrieving objects is not his strong point.
On the other hand he learned very quickly to find treats underneath small containers like cups and jars.
Successfully taking a Christmas photo
required much patience from the entire family.
But in the end it was worth the effort.
Ringo roughly one year old at the dog park in Holzwickede.
We are preparing Ringo with weekly training sessions for the Begleithundeprüfung according to VDH rules
Ringo the snowman with 1 1/2 years
Ringo with 2 years
Ringo with 4 years