C-Litter Pregnancy
Here is the course of the 9 weeks of her pregnancy recorded.
The first three weeks were rather inconspicuous, as there was nothing to observe.
Jade was as usual.
9.th week 25.11 to 02.12
Unfortunately we can not lead the countdown to the end.
Jade's babies wanted to arrive in the puppy box.
At 30th November 2019
4 males and 5 females have completed the C-litter.
More now under puppies.
Still three days; the countdown is running.
In the end, her waist and chest have risen again:
Jades weight
Jades chest: 84cm
Jades waist: 76 cm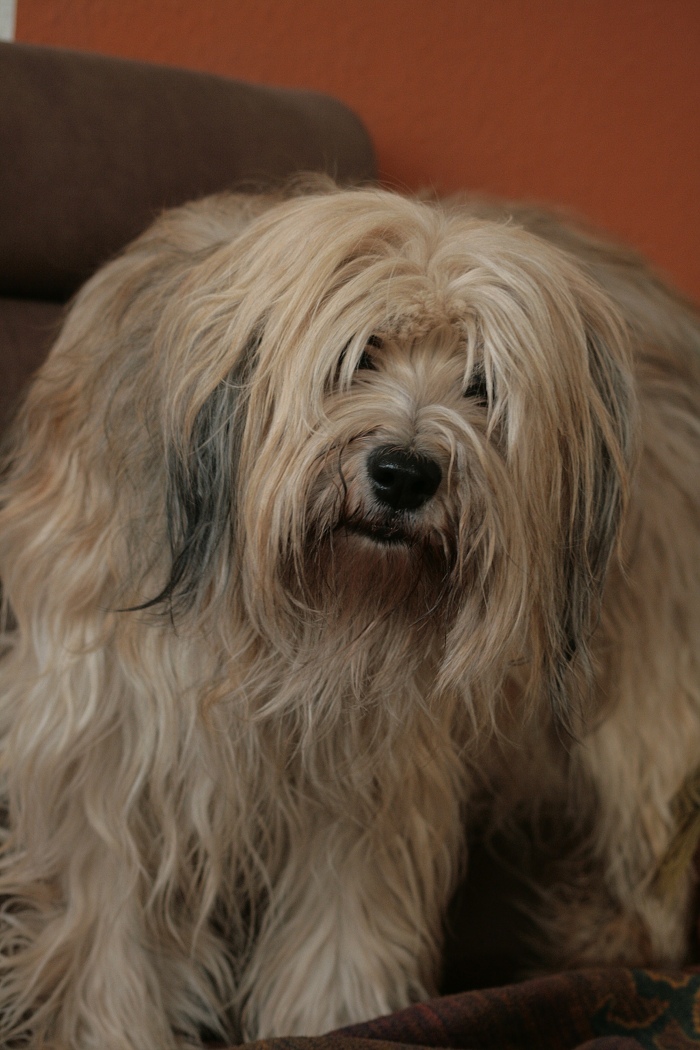 Only five days left; the countdown is running.
Your chest and waist circumference grows a bit.
Jade enjoys the pampering, the brushing massage, which happens every day.
There are now 4 meals so that your bowel area is not overloaded.
She is very hungry, which is normal
because the puppies are gaining ground in the last week
and they need to be well cared for by the mother.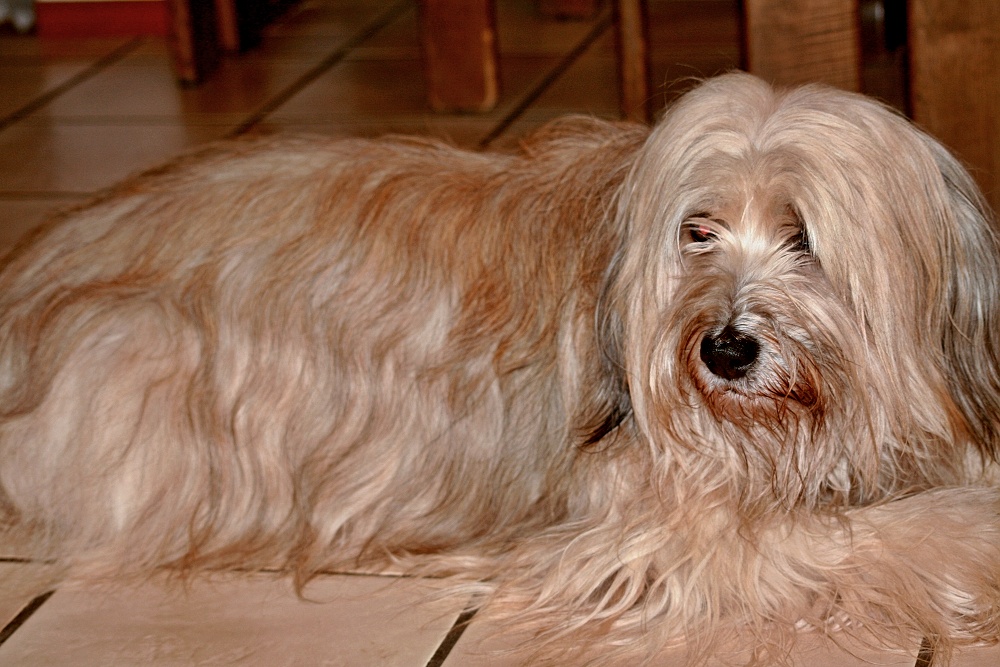 Seven more days; the countdown is running.
Jade will not be left alone for long.
She enjoys being cared for to the fullest and,
in some cases, lovingly invites her.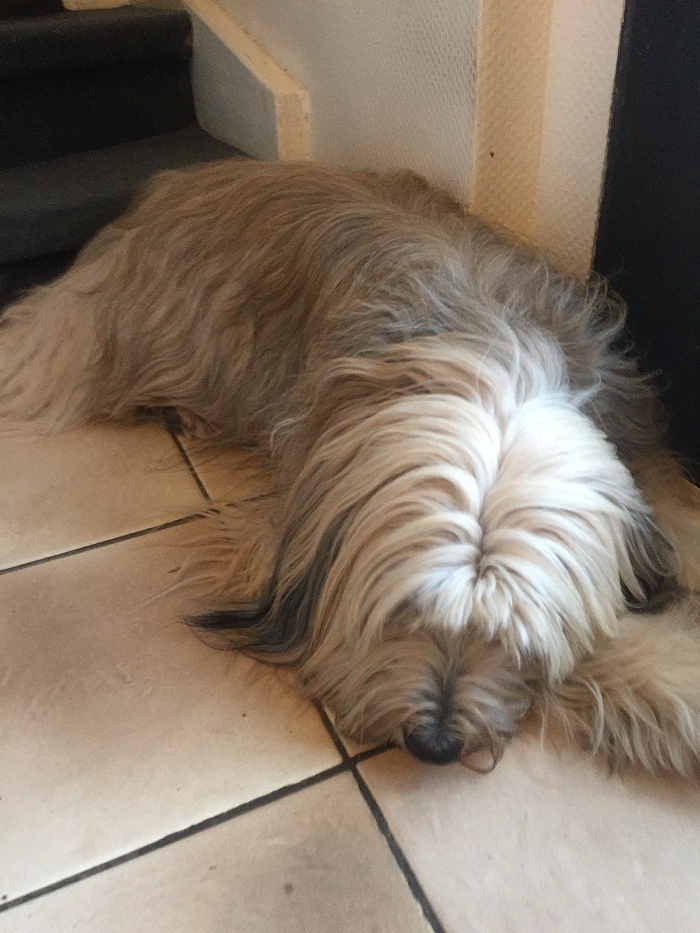 Jades weight: 29.0 KG
Jades chest: 82cm
Jades waist: 73 cm
8.th week 18.11 to 25.11.
The last things have to be worried now.
Then it just means wait; Employ Jade and prepare her as well as possible.
Our pregnant at home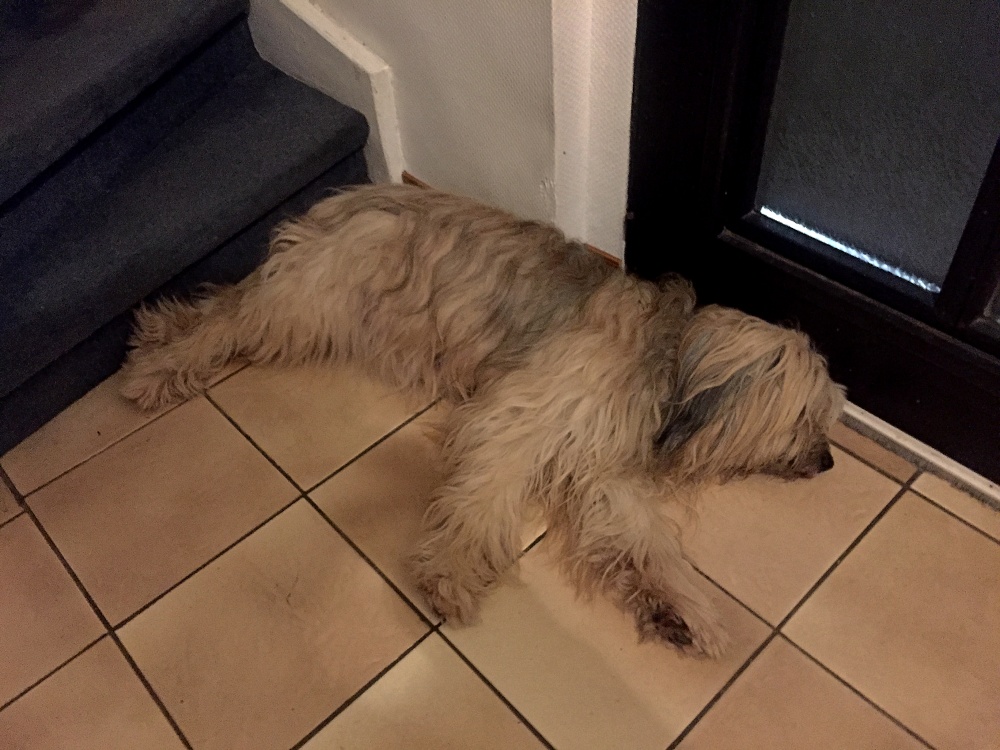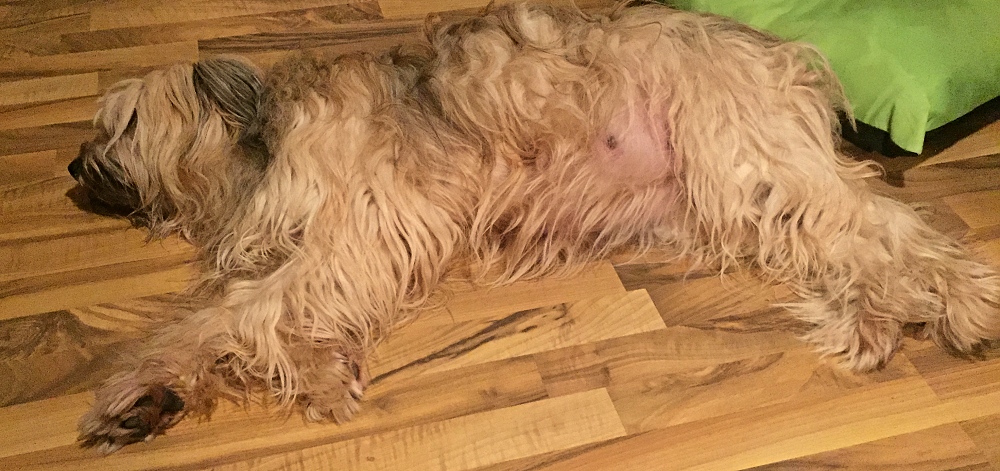 The countdown counter slowly becomes single-digit,
the preparations more intense.
We were at the vet on 21.11.
to hear the technical opinion of the enormous increase of almost 3 kilos in a week.
Everything is in the normal range, heart is ok, her eyes are as well.
Of the many puppies we wanted to take a closer look at 3.
It was a great sight.
A puppy yawned properly, a leg kicked, hearts pumped,
all were properly developed in age.
It was just nice to watch.
the last 14 days are starting.
Jade is now clearly seeing the pregnancy.
She is a little chubby;
but gets only the quantities that correspond to the course of their pregnancy.
The number of daily walks is increased, but the duration
a little bit downsized.
Her chest and waist circumference increased significantly during the week.
The biggest change is in the last week.
Jade is still fine, but she does not sleep through the nights.
Jades weight: 27.0 KG
Jades chest: 78cm
Jades waist: 69 cm
Fourteen days before the puppy room is set up so far,
that Jade can already get used to it.
7.th week 11.th November to 18.th November
Before it goes into the "maternity protection", Jade, Baika and mum are again set to nose search.
The result is explained in the gallery.
Time is racing. Now begins the last third of her pregnancy. Jade is doing very well.
In the house she is still very quiet and sleeps a little bit more than usual.
At the moment she has the so-called craze and needs to be braked properly, that she does not increase too much.
she displeases a lot.
Jades weight: 24.7 KG
Jades chest: 71cm
Jades waist: 60 cm
6.th week 04.th November to 11.th November
Sporty fitness is also in the pregnancy announced.
We also train RO at the end of the second third.
It all goes a little slower and the duration is also reduced.
The call front is excellent and Jade is happy at work and fully focused.
According to their condition, we have slightly lowered the jump height Jade at jump in RO
the Twist out off class 2 Jade Twist in RO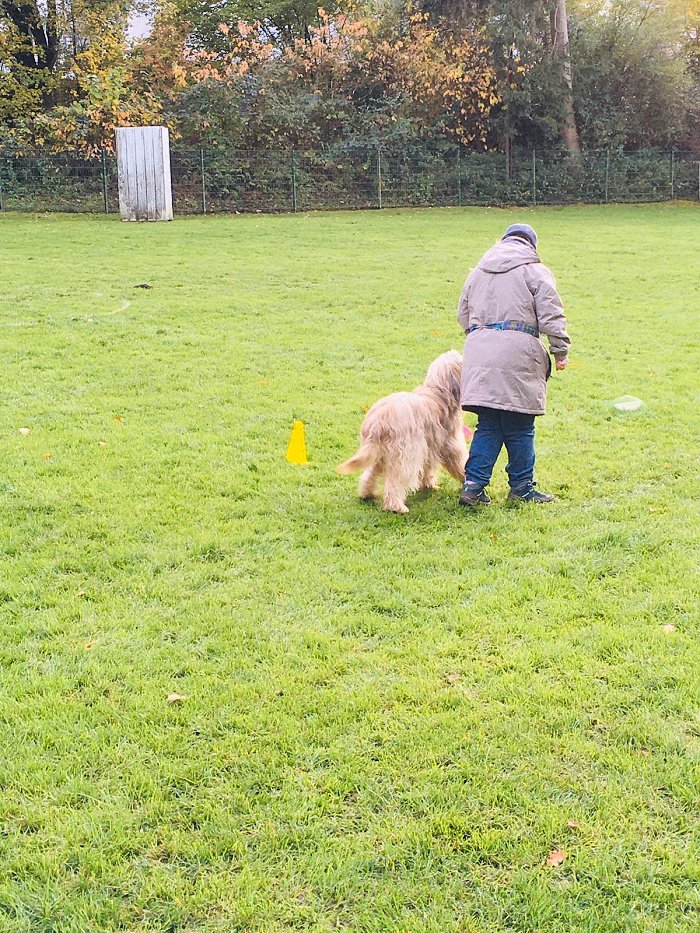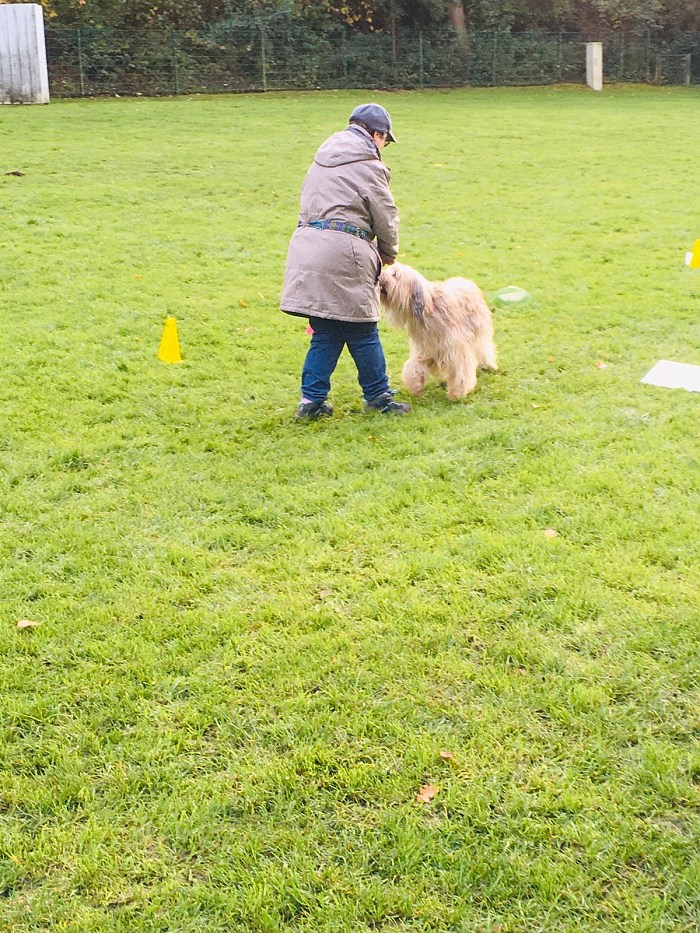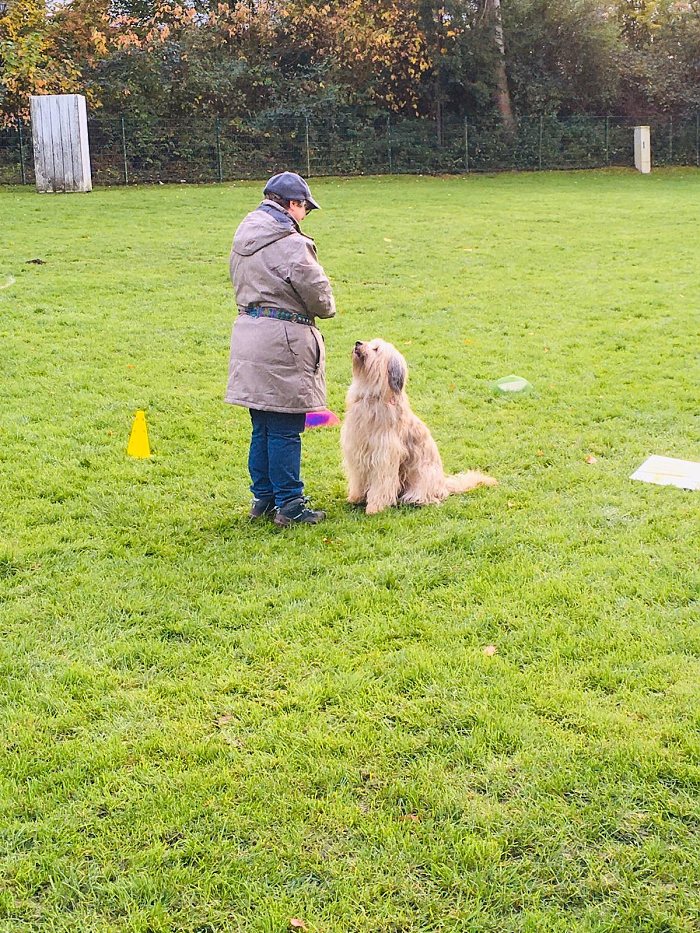 That's Jade's expression when trick training is in the house.
Mentally, she is kept fit during pregnancy.
So, Rally Obedience elements or "pawing", "by the legs", "touch the hand"
or much more are on the agenda for mental fitness.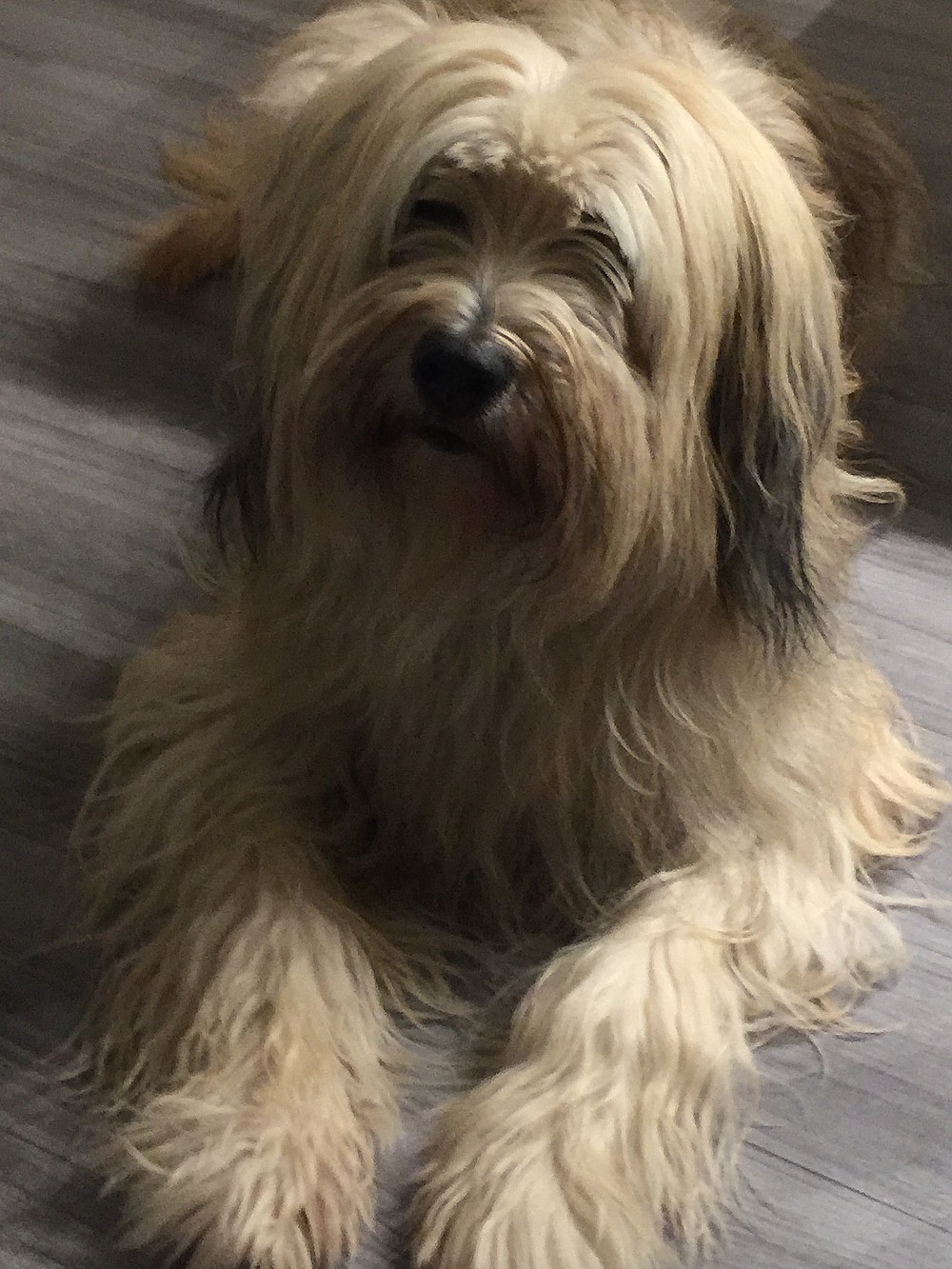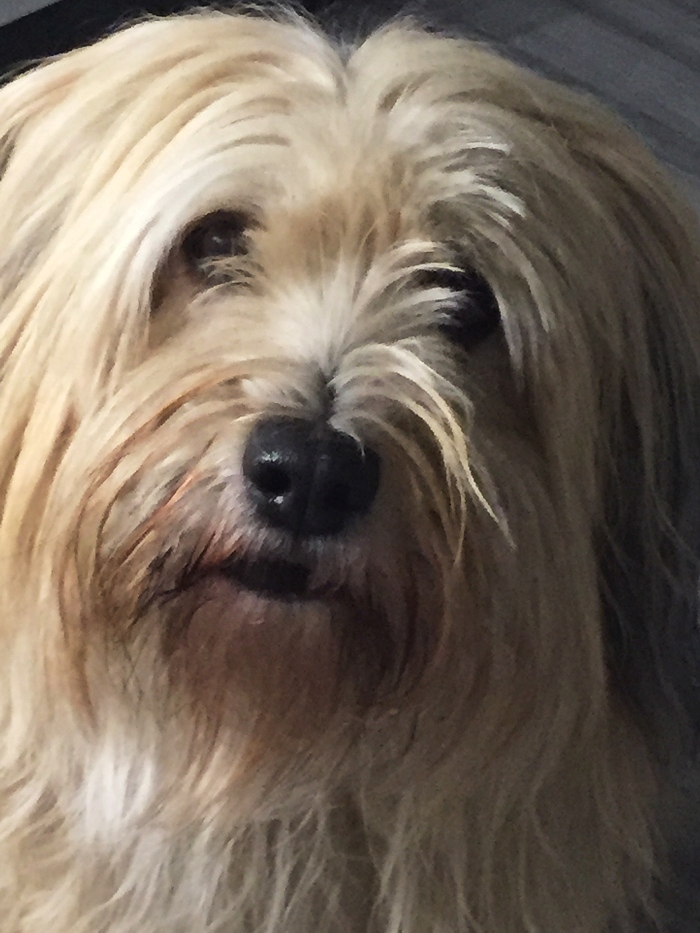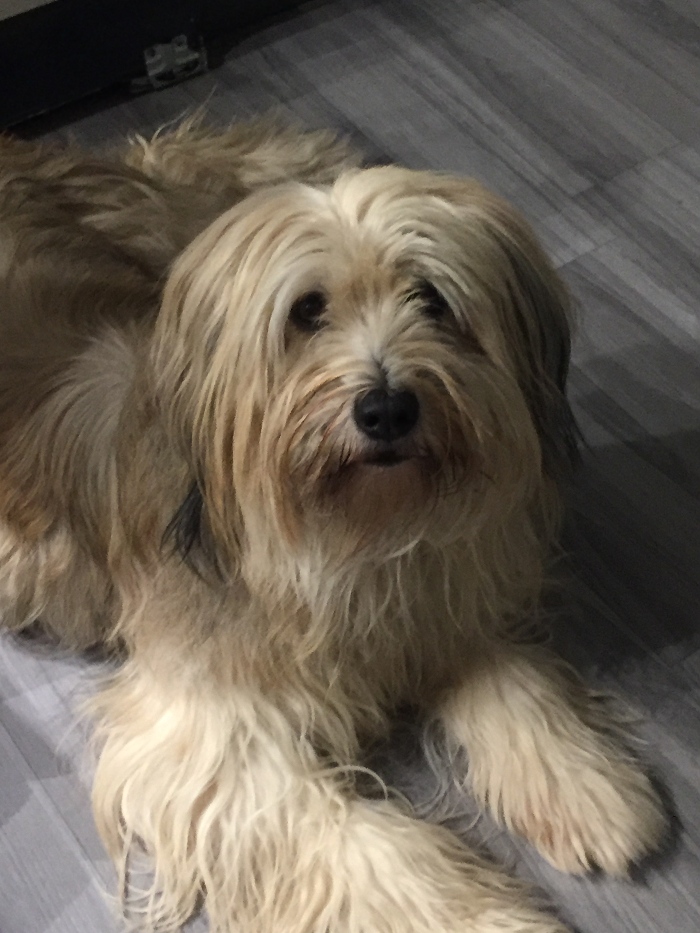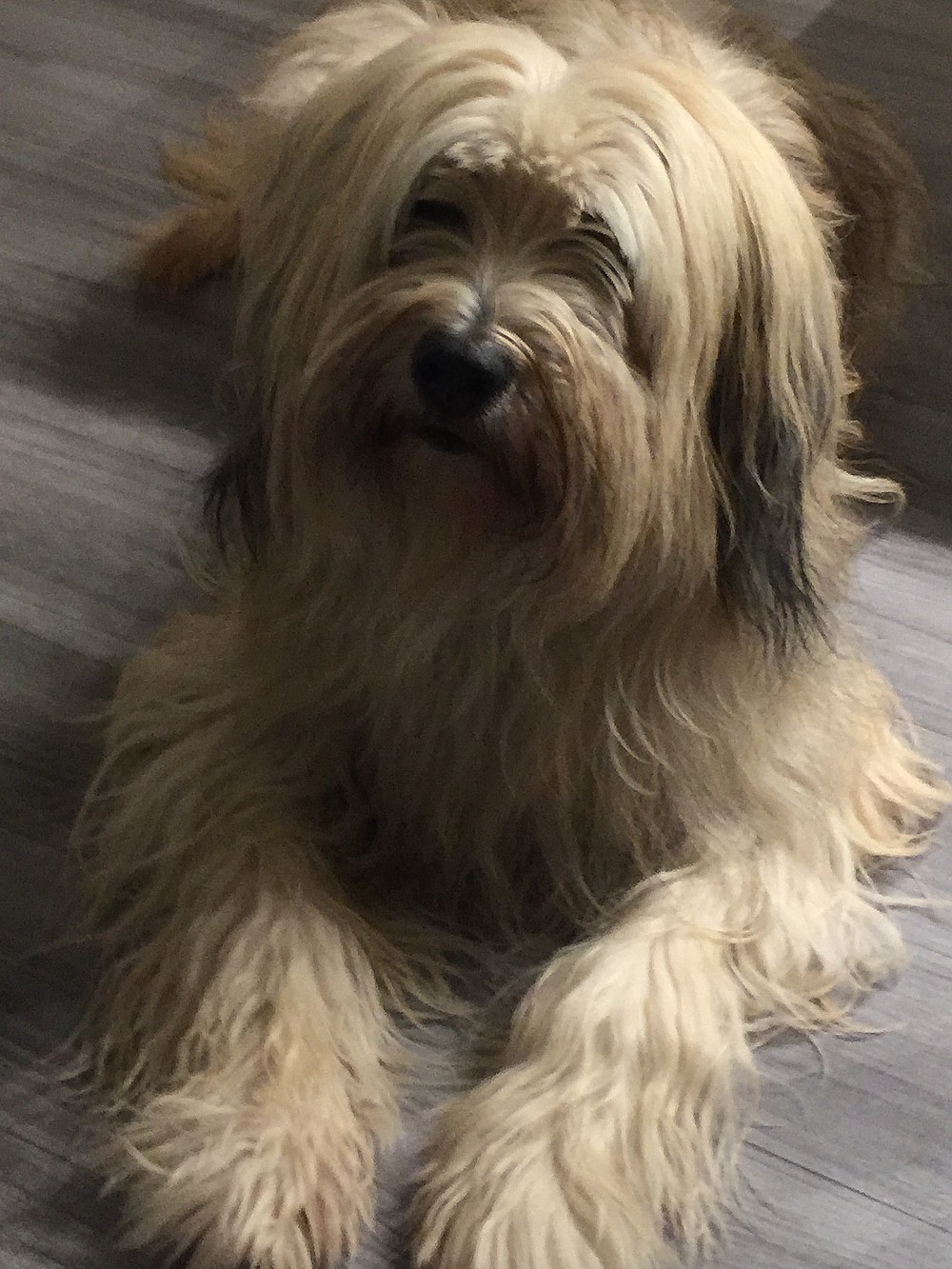 Jades weight: 20.7 KG
Jades chest: 70 cm
Jades waist: 58 cm
5.th week 28.October to 04.November.
There also seems to be something like pregnancy sickness in dogs.
Jade is eating a lot of grass right now.
Now for the first time the abdominal and chest circumference,
as well as the weight written down,
to see the changes over the next few weeks .
Jades weight: 21.7 KG
Jades chest: 68cm
Jades waist: 56 cm
24.th October
The heart of Angela beat faster,
when it went to the veterinary practice.
What would the ultrasound do?
Hopefully after such a long wait something positive ??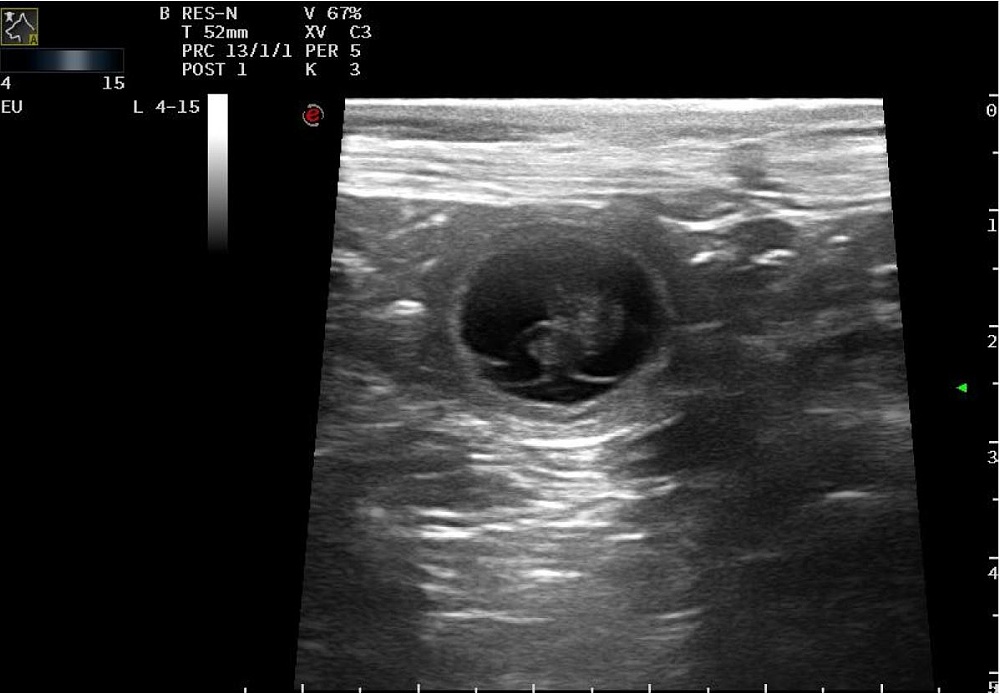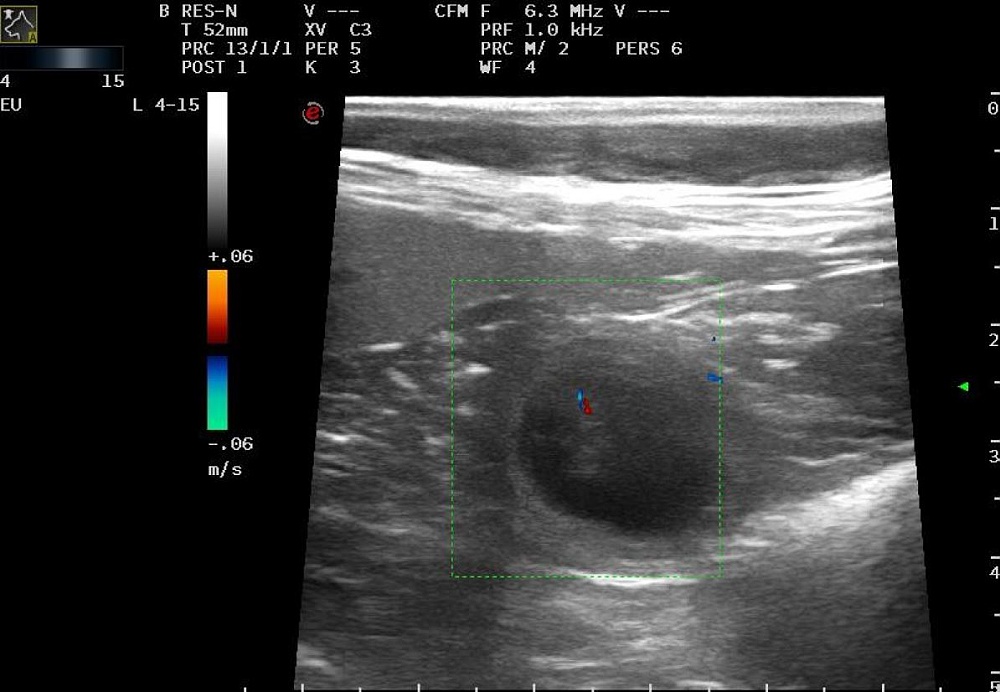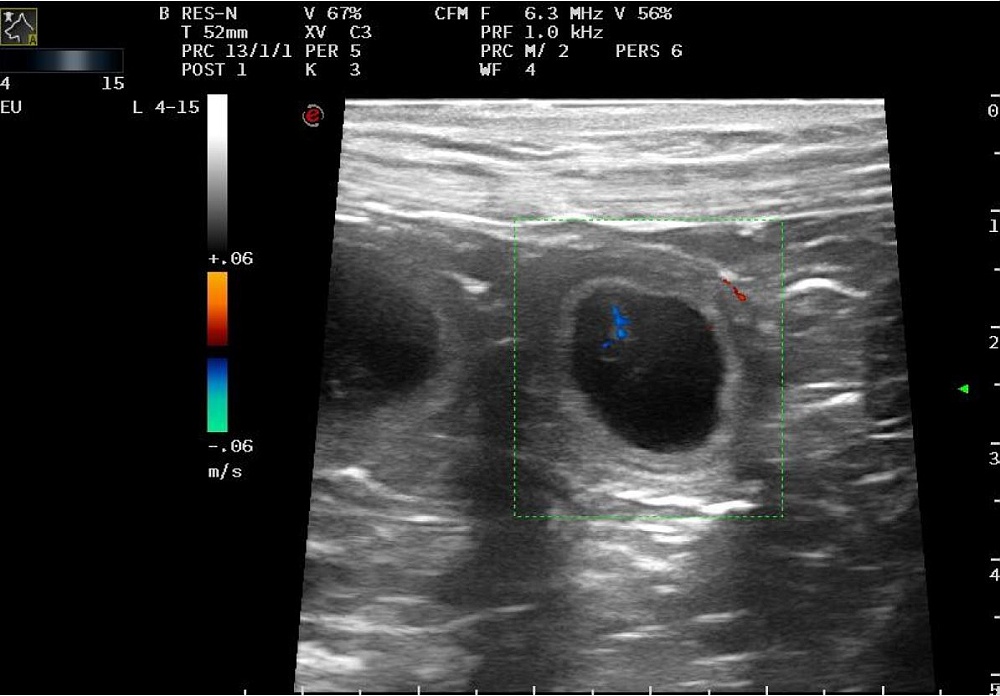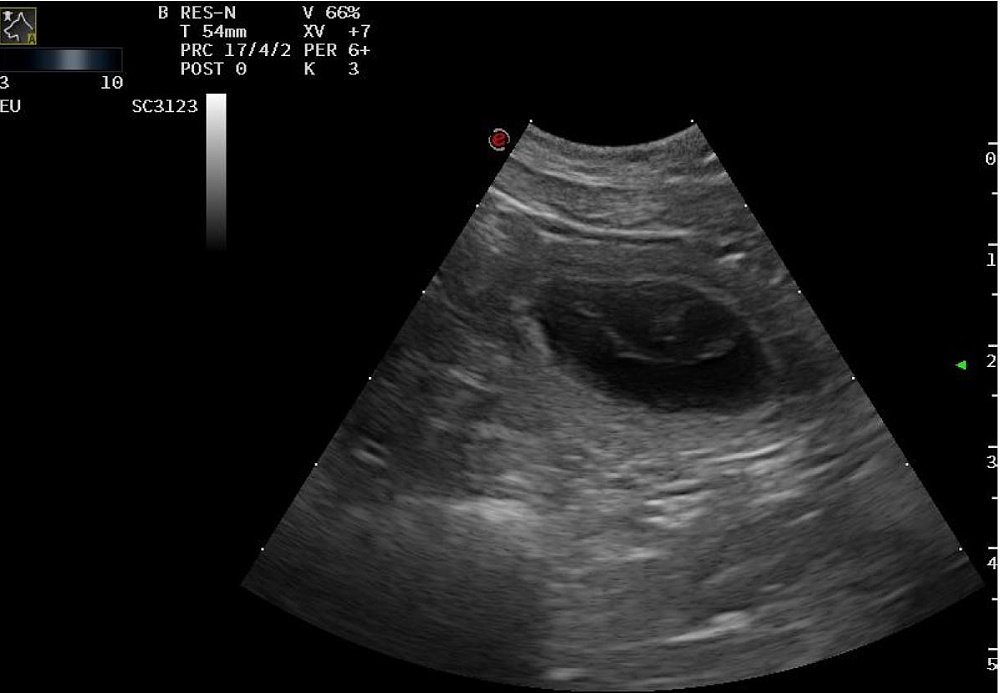 Angelas heart jumped with joy,
as small red dots appeared in the picture.
How many points has been seen will not be revealed.
We want to keep it exciting.
10.th October to 22.th October
Meanwhile, Baika has arrived back home
and immediately her owner is "devoured" for a second holiday trip to Vietnam.
The two are now under each other again, playing in the garden and get along splendidly.
Further changes can not be observed with Jade.
They are happy when they go for a walk together in the Boemke.
There Jade stays close to Mum
and do not always run after Baika.
There are no changes in feeding or other activities of her in the house.
2.th October to 9.th October
The return journey to Dortmund went smoothly
and Jade and Mum were looking forward to a week together with a dog,
because Baika was with her mum on holiday at Lake Constance.
An appointment for the first ultrasound was agreed.
Jade was as cuddly as ever,
but otherwise no changes could be detected.